---
Postponement of MESON2020
Due to the fast spread of COVID-19, major restrictions to travel and assembly have been implemented in many places throughout the world. In this very difficult situation, the organizers of the MESON2020 conference have decided to postpone the conference. It is difficult to predict how quickly the situation will come back to some semblance of normality, but we do hope it will improve soon. Thus, we have decided to postpone the next MESON conference until the summer 2021.

We would like to thank very much all of you who sent us abstracts and the invited speakers who already confirmed their talks. This strong interest in the conference motivates us to go ahead with rescheduling the event for next year. At an appropriate time all speakers will be asked to reconfirm their participation and as needed to update their abstract. Details of MESON2021 will be distributed as soon as the general situation permits us to proceed with the detailed planning.

We wish that you, your families and friends stay healthy,

Catalina Curceanu, James Ritman, Piotr Salabura
Carlo Guaraldo, Stefan Leupold, Joachim Stroth, Antoni Szczurek
Damian Gil, Rafał Lalik
---


The Institute of Physics of Jagiellonian University, Forschungszentrum Jülich, INFN-LNF Frascati and Institute of Nuclear Physics PAS Cracow are organizing a biennial workshop to establish closer contacts between experimentalists and theorists involved in the studies of meson production, properties and interaction. The workshop will cover lectures on both experimental and theoretical aspects, in particular the presentation of new results.

The main topics of the workshop are:
hadronic and electromagnetic meson production,
meson interaction with mesons, baryons, ground state nuclei as well as
hot and dense nuclear matter,
structure of hadrons,
precision measurements as tests of fundamental symmetries,
exotic systems in QCD,
novel approaches in theory and experiment.
The intention is to provide an overview of the present status in these fields, as well as of new developments, and a preview of the forthcoming investigations. This workshop - the sixteenth of the series - will maintain the tradition of the workshops organized since 1991 at Cracow. The proceedings of the MESON2018 workshop have been published in EPJ Web of Conferences Vol. 199 (2019).

A poster session is foreseen as an opportunity for students and young scientists to present the results of their work. There will be a competition for the best posters. Apart from attractive prizes, the author of the best poster will be asked to present her/his work orally during one of the sessions on Monday afternoon.

We invite everyone to participate also in the Hadron Physics for Precision Tests of the Standard Model taking place in Kraków between 1st and 3rd June 2020.



Warning about scam messages
Several of the speakers whose names were already listed on the MESON2020 webpage have reported receiving e-mails and phone calls from some company containing hotel booking propositions for the Workshop. Such messages are scam attempts, therefore please do not respond to them. Similar scam cases were experienced other conferences (see the warning note available from Elsevier website).

Please note that we do not and will not provide any accommodation recommendations except those on the webpage, although the participants are welcome to contact us in need for assistance in booking accommodation. In case of any doubt about received messages, please contact us using the official e-mail address: meson@if.uj.edu.pl before taking any action. Any official MESON announcements from the organizers will be distributed only via meson@if.uj.edu.pl e-mail.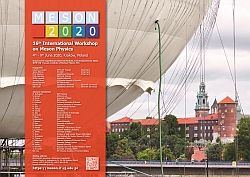 (click to enlarge)
First Circular
Second Circular