Welcome reception
On Thursday afternoon, after the last session, a welcome reception will be held in the conference center, at the same room as coffee breaks and lunches ("Exhibition room", level +2).
Excursion
On Sunday, 10th June, we kindly invite you for an unusual and adventurous Kraków sightseeing in a city game mode. Exploration of the Old Town area necessary to locate the interactive stops with mysterious characters and various tasks to accomplish makes the walk exciting and intriguing. For those who prefer more classic way of sightseeing without tasks, riddles and competition there will be also an option prepared. Both routes will show you the Kraków's charm not only with all its famous monuments of history but also with less known corners and alleys.


Classical sightseeing: the meeting point is Plac Wielkiej Armii Napoleona, this is the square between Sheraton Hotel and Vistula River, next to the Tourist Information (see map). Please be there on time, not later than 10:00 - if you are late you will miss the tour. There will be three separate groups guided individually. At the end (at 13:00) you will arrive to the boat for the luncheon.
City game: the meeting point is a square near Old Synagogue at Szeroka 24 street (see map). Please be there on time, not later than 10:00 - if you are late you will miss the tour. The game is held in small groups about 5 persons each. You are welcome to ask your friends in advance to be in a group. You need to solve all tasks not later than 13:00 in order to get to the boat for the luncheon.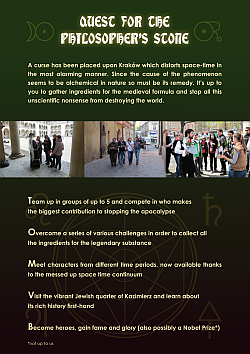 Conference dinner
On Monday all participants are invited to the conference dinner, which will be held in the Lubicz Brewery Restaurant at Lubicz Street 17. Walk from the Auditorium Maximum takes about 25 minutes. You can also take a tram number 4 or 20 from a tram stop "Teatr Bagatela" which is a few minute walk from the Auditorium Maximum, and go to the "Lubicz" stop.
loading the map...
More
It is possible to book individual one-day excursions to the salt mine Wieliczka or the World War II concentration camp of Auschwitz. The conference office will be ready to help you with the arrangements.